The Little Prince continues his trip from Italy to France!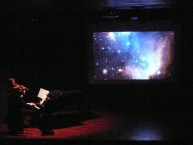 Spring & music fit together!
Do not miss:
Sunday, May 12th at 5 p.m.
Cathedral of Saint-Lizier, France
Festival d'Art Sacré du Couserans
Clara Cernat, violin
Thierry Huillet, composer and pianist
will perform The Little Prince
Look at some pictures of their recent tour in Italy:
Suona Francese International Festival!
The Italian Press:
La Repubblica 21.04.2013
Il Piccolo Principe
SUONA FRANCESE
Suona Francese, una vastissima rassegna che comprende tutti i generi musicali italiani e francesi, anche quest'anno propone un programma vasto e originale di conferenze, seminari e concerti a tema, generando tutta una serie scambi culturali, occasioni di formazione pedagogica e di collaborazioni tra i maggiori conservatori italiani e le più famose accademie musicali francesi.
Lo spettacolo Il Piccolo Principe : Le Petit Prince, Concert pour piano et violon d'après l'œuvre d'Antoine de Saint Exupéry: protagonisti Clara Cernat al violino e Thierry Huillet al pianoforte e composizione.
Ricordate il candore disarmante del Piccolo Principe? Il capolavoro scritto in America nel 1943 dal pilota francese Antoine de Saint Exupery è già stato oggetto di operazioni scenico-musicali, dal cartone animato al musical. Ma è davvero originale la versione che propone il duo francese Clara Cernat al violino, accompagnata al piano da Thierry Huillet che è anche l'autore delle musiche. Versione che affida al violino e al pianoforte il compito di impersonare le atmosfere sognanti del piccolo viaggiatore, giunto da un asteroide nel deserto del Sahara.
Dieci brani strumentali riferiti ad altrettanti capitoli del romanzo (dedicati a un serpente, ai baobab, al fiore, ala volpe, ai pianeti e all'asteroide B612).
Dinko Fabris, La Repubblica (Italy)