Flamenco Ballet in Toulouse on Thierry Huillet's music on the 28th of March 2013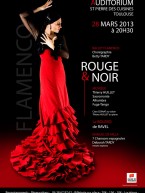 Do not miss this original show where Betty Tardy's flamenco ballet meets Thierry Huillet's contemporary music! Live music by the composer himself!
28th of March, Toulouse, 8:30 p.m., "Saint-Pierre des Cuisines" Concert Hall in Toulouse, France.
Booking:  +33 (0)6 38 67 97 62 or Fnac-Carrefour-Géant-HyperU-Intermarché 0892 68 36 22 www.fnac.com